Exhibiting art, crafts and works by local artists in a series of changing displays.
The Maryborough Regional Art Society provides a venue for local and regional artists to showcase their work. Art exhibitions ensure the local district can continue to enjoy the arts. We are proud to display art works by award winning artists in a great variety of styles, sizes and prices.
The Maryborough Regional Art Society is located in the old Winter Garden Theatre Building at 282 Kent Street, Maryborough. The gallery is operated by volunteers, entry to the gallery is free and the premises is wheelchair friendly.
The gallery is open 7 days a week –
Monday to Friday, 9am to 4pm
Saturday and Sunday, 9am to 1pm.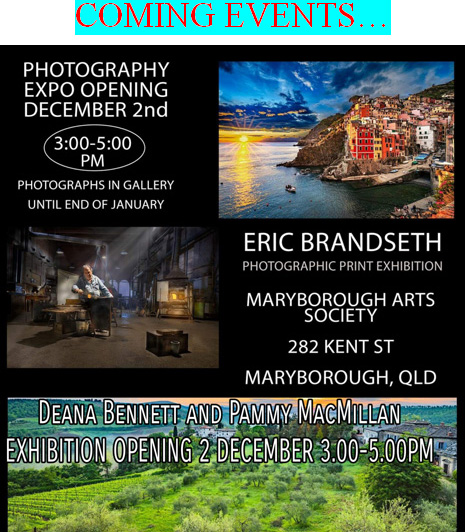 2023 - 2024 Events at The Maryborough Art Society
---
About The Society
The Maryborough Regional Art Society was first formed as the Maryborough Art Group in 1947 by a small group of people with a common interest in art. This group flourished, later becoming the Wide Bay Art Society, which was responsible for starting the annual Winter Art Festival.
In 1988 the Art Society went through more changes; it was offered accommodation in the old Gatakers building and changed its name, becoming incorporated as the Maryborough Art Society Inc. (Now The Maryborough Regional Art Society).
In 2009 the Art Society relocated to its current location, where it continues to provide a venue for the people of Maryborough and the local district to enjoy the arts.
Events At The Society...
Click/Tap on photos to see larger image.
---